The fashion industry is a jungle where it's easy to get lost: consumers are increasingly aware of the polluting and exploitative impacts of their clothes and keep asking brands to create more sustainable, ethical, and even cruelty-free clothing. As such, brands are trying to satisfy this growing sustainable demand… but not all of them – especially the bigger ones – are truly transparent on what they do and, more often than not, the claims you see are pure greenwashing.
The first and most immediate way to be sure that the piece of clothing you're buying is truly sustainable, ethical, and/or vegan is to look for whether the brand has one or more certifications – aka standards that inform consumers about the origin and nature of the materials used and the environmental and social outcomes throughout the production processes.
While sustainable fashion might not be enough to save the environment in and of itself, it takes a crucial part in building a more responsible future of fashion. Read more about this in our post 'The Truth about Why Sustainable Fashion Won't Save the Environment'.
Usually, certifications are proudly explained and displayed on the brand's website and printed as logos on clothing hangtags. But do you know what all these certifications actually mean? If you're not so sure, you're in the right place. This article is here to help you navigate this jungle. We've created the ultimate list of the most common and used fashion and textile certifications. Let's take a look.
1. Global Organic Textile Standard (GOTS)
GOTS is a world-leading standard that not only certifies that textiles are made from organic fibers – that is, fibers grown without the use of synthetic pesticides, insecticides, herbicides, and GMOs – but it also ensures that manufacturing processes are environmentally friendly and that working conditions are dignified and constantly improved along the entire supply chain.
To be awarded the certification, a textile product must contain at least 70% certified organic fibers and meet high social (no child and no slave labor; fair wages and other workers' rights), environmental and toxicological (wastewater treatment and chemicals use) standards assured by on-site inspections.
2. Cradle to Cradle Standard
Cradle to Cradle standard is focused on the end of the product's life cycle. It's indeed the opposite of the "single-use" idea and certifies that products with the "C2C" logo are safe, circular, and consciously designed and responsibly made today to positively impact the world we will inhabit tomorrow.
How can a fashion product receive the Cradle to Cradle certification? It depends on the score in 5 categories of sustainability performance: material health and safety for humans and the environment; circular and regenerative design; air and climate protection; water and soil safeguarding; social fairness.
3. Oeko-Tex
OEKO-TEX consists of 18 independent research and testing institutes in Europe and Japan that work to enable consumers and companies to make responsible decisions by defining values and limits for the fashion industry. They've developed various standards among which Standard 100 and Made in Green are the most known ones.
Standard 100
Standard 100 stands for customer confidence and product safety. Indeed, if a textile article has the Standard 100 seal, you can be sure that every component – from threads to buttons to zippers and other accessories – has been tested for harmful substances and that it's totally harmless for human health.
Made in Green
On the other hand, Made in Green seal identifies items both tested for harmful substances and manufactured under sustainable conditions from an environmental and social point of view.
4. Better Cotton Initiative (BCI)
BCI is the largest cotton sustainability initiative in the world that helps cotton communities survive and thrive while protecting and restoring the environment. Their work is crucial as cotton is the most used fiber – about half of all produced textiles are made of cotton – and safeguarding its growth and processing is essential. 
Today nearly a quarter of the world's cotton is produced under the Better Cotton standards, and millions of cotton farmers have already been trained in sustainable farming practices and are licensed to grow "Better Cotton".
5. Forest Stewardship Council (FSC)
Believe it or not, the fashion industry has a lot to do with forests: just think of how many fibers such as rayon, viscose, modal, or lyocell are increasingly used as sustainable alternatives to the less eco-friendly ones. But of course, these fibers must come from well-managed forests to be truly sustainable.
Since 2015, FSC has been working to develop fully certified textile supply chains that enable textile manufacturers to sell sustainable clothing and other products. FSC certification confirms that the forests are managed in a way that preserves nature, biological diversity and economically benefits the lives of local people and workers.
6. EU Ecolabel
Established around 30 years ago, the EU Ecolabel encourages companies to generate less waste and CO2 during the manufacturing process, but also to develop products that are durable, easy to repair, and recyclable. In a nutshell, the EU Ecolabel promotes the circular economy and is awarded to those products and services that meet high environmental standards from raw material extraction to production and disposal. 
Like other certifications on this list, the EU Ecolabel is not specific to the fashion industry but in this field it defines criteria that guarantee, for example, limited use of harmful substances and the reduction of water and air pollution.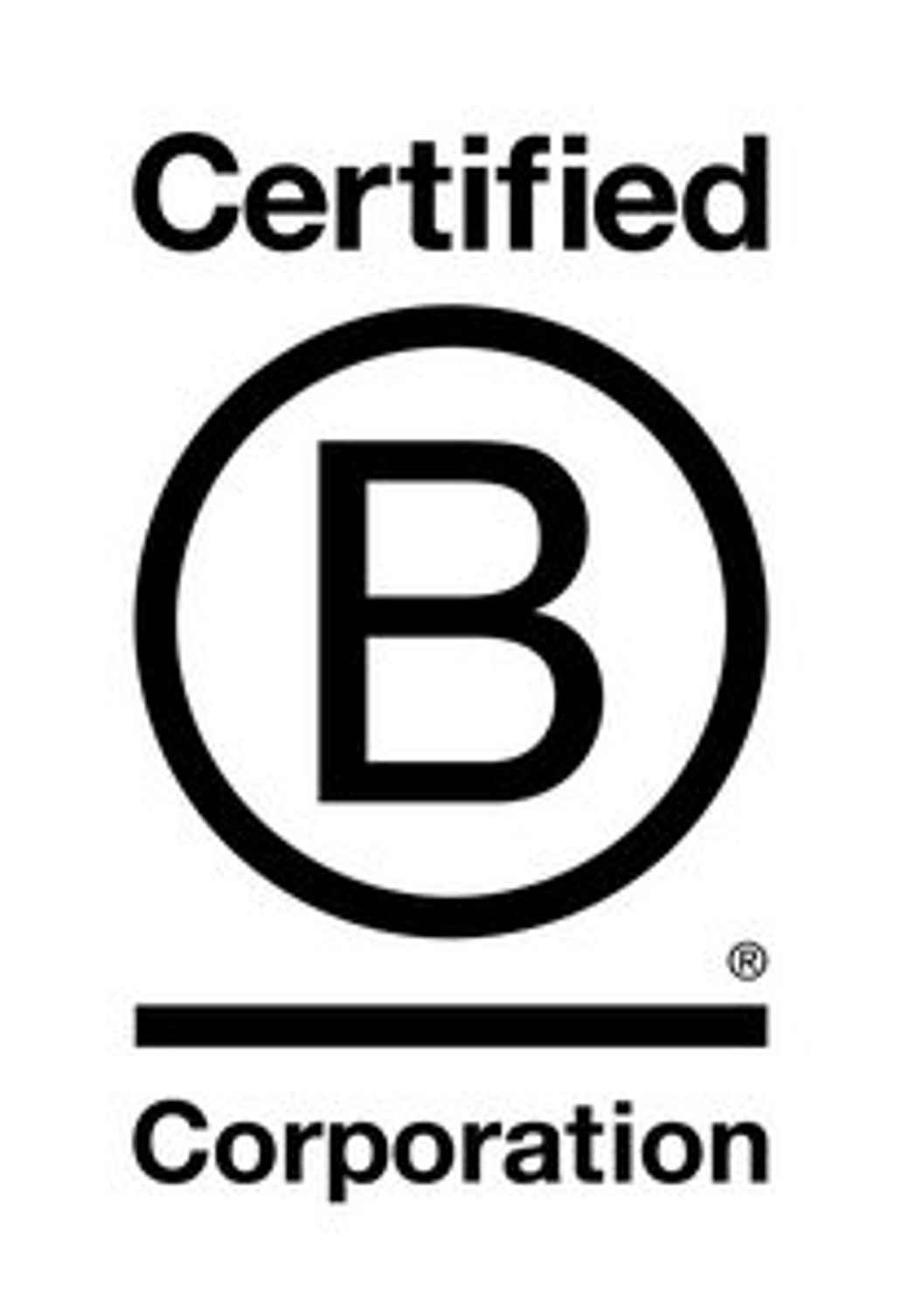 7. Certified B Corporation
This certification is also known as "B-Corp" and measures a company's entire social and environmental performance – the company's impact on its workers, customers, community, and environment.
What does this mean? Simply put, B Corp Certification proves that a company meets and is committed to meeting the highest social and environmental standards in all its operations – from input materials to employee benefits. On their directory, you can search for B Corps or companies already certified and have transparent access to all their impact and commitment scores.
8. SA8000 Standard
The SA8000 Standard is by far the world's leading social certification program. It protects 2,191,838 workers in 56 countries and in 58 industries. The standard provides a strict framework for any organization, in any industry and country to conduct business fairly.
Child, forced, compulsory labor is not contemplated; freedom of association and right to collective bargaining are assured; health, safety, and fair remuneration are protected. As the textile industry is known for exploiting workers, adhering to this standard is extremely crucial for all fashion brands.
9. Fair Trade Certified
If you're looking for products that meet rigorous social, environmental, and economic standards, then look for the Fair Trade Certified logo.
When you spot this certification, you can be sure that that product has been made in a safe working place by fairly paid workers who might also earn additional money so they can empower their communities and protect the environment.
10. Fairtrade
As well as the previous one, the Fairtrade certification is about workers' rights and tackling poverty and poor working conditions in developing countries around the world. What I do like the most about Fairtrade is that they ensure a minimum price, which is an economic protection for small farmers who are too often forced to sell below the cost of production.
Within the fashion industry, Fairtrade certifies factories that: have a committee of elected worker representatives in place; create safe workplaces and buildings; provide protective equipment for chemicals and dispose of them in an eco-friendly way; regulate working hours, employment contracts, and temporary work.
11. Fair Wear Foundation
At Fair Wear Foundation they're committed to creating a fashion industry that supports workers and secures their rights to safe, dignified, properly paid employment. Fair Wear focuses on 3 specific processes of apparel production – sewing, cutting, and trimming – as they're the most labor intensive steps in the whole supply chain.
Fair Wear works directly with brands, factories, trade unions, NGOs, and governments to make fashion fair for everyone. To receive the certification, each member has to adhere to a Code of Labour Practices made up of 8 principles derived from the ILO Conventions and the UN's Declarations of Human Rights.
12. World Responsible Accredited Production (WRAP)
WRAP is probably one of the world's largest and independent certification programs focused on ethics and workers' rights and safety. WRAP specifically focuses on the fashion, footwear, and sewn products industry and its primary goal is to ensure that production facilities operate in a safe, responsible, and ethical way.
They have 12 principles that are meant to promote responsible business practices and sustainability, including human resources management, health and safety, environmental practices, legal compliance, and safety standards.
13. Bluesign Standard
Bluesign Standard has people – workers and consumers – as its focal point. It aims to create safer and more sustainable environments for people to work in and to ensure that everyone feels good and safe when making, shopping, and wearing clothes.
Bluesign acts as an independent verifier to secure trust and transparency at every stage of textile production, also taking into account the environmental impacts. A Bluesign product is made up of at least 90% Bluesign-approved textiles (the percentage drops to 30% for accessories).
14. Cotton Made in Africa (CmiA)
CmiA is an internationally recognized standard for sustainable cotton production in Africa. It wants to "help people help themselves, via trade rather than donations" by improving working and living conditions for farmers and workers while protecting the environment.
Basically, they support smallholder farmers, promote gender equality, dignified labor conditions; and they also protect soil, water, biodiversity by banning the use of genetically modified organisms and following strict cotton cultivation criteria.
15. People for the Ethical Treatment of Animals (PETA)
PETA was founded in 1980 and is the largest organization in the world dedicated to establishing and defending the rights of all animals. This certification is on a mission to stop animal abuse worldwide and help consumers identify vegan items. Indeed, PETA operates under the simple but not at all trivial principle that animals are not ours to experiment on, eat, wear, or abuse in any other way.
To date, the "PETA-Approved Vegan" logo has already been used by over 1,000 companies to highlight that their cruelty-free clothing, accessories, furniture, or other items are made from vegan and very innovative alternatives to animal-derived materials such as leather, fur, silk, feathers, or bone.
16. The Vegan Trademark
Since 1990 The Vegan Trademark has been helping users identify vegan products. The Vegan Trademark seal also means that the whole manufacturing process is completely free from animals – that is all vertebrates and all multicellular invertebrates – animal-derivatives, by-products, and testing of any sort on animals.
Their team checks each application and works with manufacturers and suppliers to ensure that each and every product meets the highest vegan standards. The certification is renewed from year to year to ensure the constant updating of information.
Other certifications for animal welfare
Our blog doesn't support or promote the suffering of animals in any way. As such, we feel that talking about other certifications such as Responsible Down Standards (RDS) or Responsible Wool Standards (RWS), just to name a couple, isn't in line with our ideals and values. However, we'd like to point out that there are standards that somehow guarantee the welfare of animals. And if you consciously opt for non-vegan clothing, these certifications can at least help you compare alternatives.
Take-home message
Earning a certification can be very expensive and it's not surprising that some fashion brands – especially the smaller ones – can't afford one or more standards most of the time. As such, you won't find any seal on their products but this doesn't necessarily mean that that they're lying on materials, processes, and/or ethics.
How to cope with this? A good resource is brand ratings and GoodOnYou is by far my favorite in this regard. What happens if a small brand is not ranked? This is very common, so we recommend that you email the brand and ask for guarantees and/or follow them on social media to see shreds of evidence of what they claim.
For the same reason, watch out for the bigger brands: they can definitely afford certifications, but how much is it worth respecting, for example, the environmental and social standards for a single collection while keeping to design dozens of unsustainable and unethical ones? Of course, some sustainable items are better than nothing… but is this modus operandi worth supporting?
Alberta Bernardi is a Ph.D. in Management, Innovation, and Sustainable Development. She likes to call herself a "sustainability warrior" because she aims to spread knowledge on the environment, ethics, and plastic pollution day after day. Her love of nature and battle against plastic around the world are on Instagram @together_no_plastic